Permanent zirconia teeth in as little as one week
The Done In One procedure was developed by Dr. Daniel Noorthoek to provide edentulous (without teeth) patients with a complete and permanent solution using as little as four implants to support an entire row of teeth.
Since 2016, the Done In One procedure has enabled thousands of patients once suffering from failing or missing teeth to completely and permanently restore their smiles. As a result of improving upon the All-on-4 and Teeth in a Day concepts, which require patients to wear a temporary plastic converted denture for up to a year, the Done In One procedure can deliver final permanent zirconia teeth in as little as one week! Each set of teeth is custom designed in Done In One's state-of-the-art dental laboratory using proprietary technology to ensure a long-lasting, high quality restoration. Our master lab technicians have decades of experience creating one-of-a-kind works of dental art.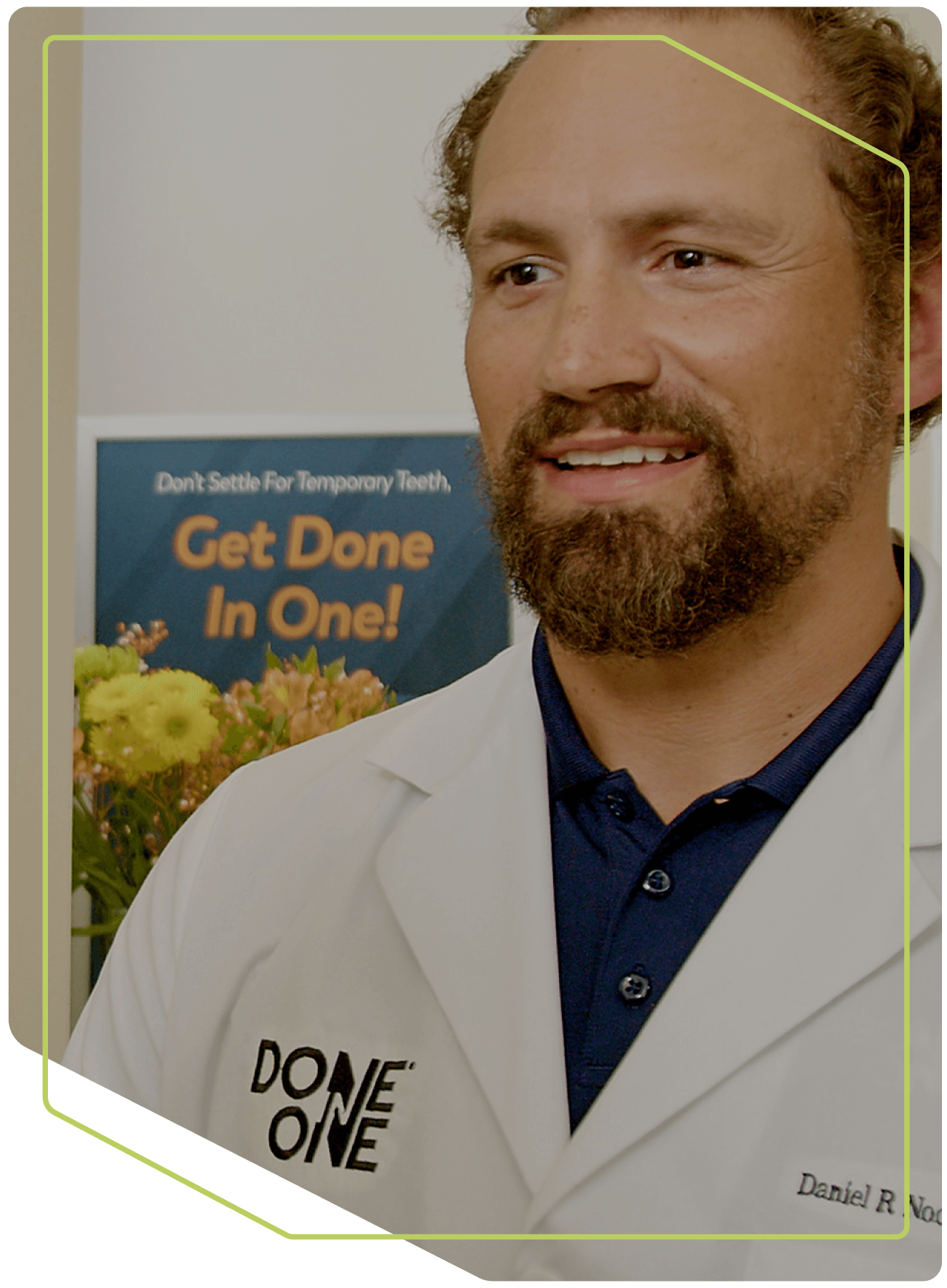 The driving force behind the streamlined Done In One procedure was a desire to reduce the amount of time required for a full-arch (upper or lower row of teeth) dental implant treatment. Thanks to advancements in digital technology, what used to take eight months to a year can now be accomplished in as little as one day.
100% Fully Digitally Designed Hybrid Bridge For A Long Lasting Beautiful Smile!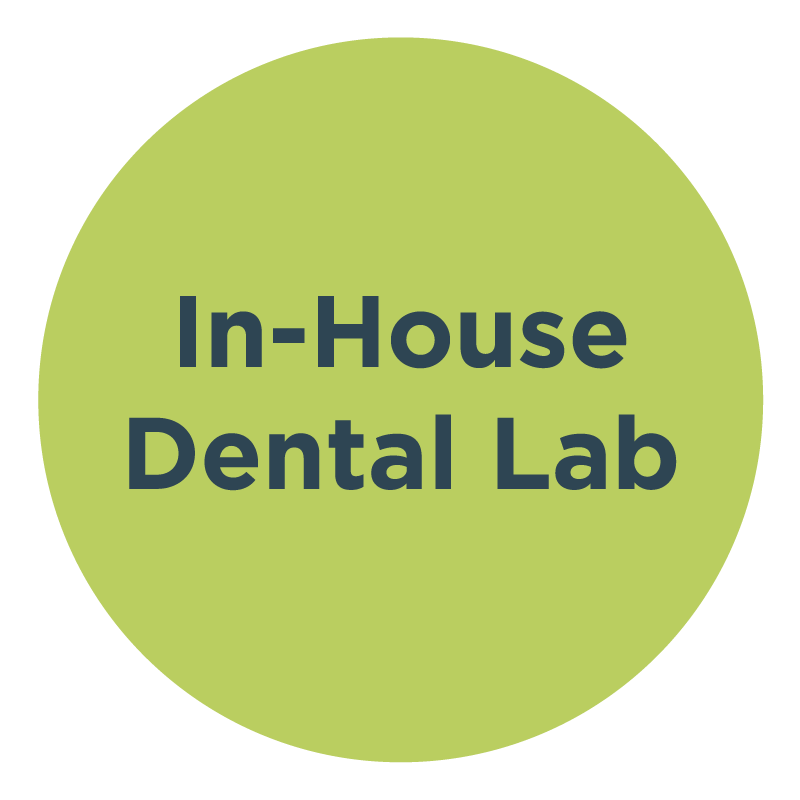 The surgical portion of replacing an entire row of teeth with dental implants was once an all day affair but can now be expertly executed in under one hour per arch.

Outdated and messy elastic impressions have been replaced with sophisticated digital scanners and photogrammetry (obtaining precise measurements from photographs), increasing accuracy across the board and resulting in a quick and painless restorative process.
In addition, the combination of improved bone grafting materials and hydrophilic implant surfaces have decreased osseointegration (the fusing of implants to the bone) time significantly, meaning dentistry is now even able to expedite the biological healing process.
The Done In One procedure was created specifically to provide the highest quality smile for the lowest cost possible to as many people as we can. After many years of doing just that, we've got it down to a science.
Non-Removable Zirconia Teeth
Custom designed in Done In One®'s state of the art dental lab using proprietary technology to ensure a long lasting, high quality zirconia restoration
Permanent Dental Implant Solution
Zirconia is FDA approved as a permanent, final restoration that will last decades with proper maintenance. An investment into zirconia is an investment in the duration of both your smile and overall oral health
Find out if you qualify for Done In One in less than 2 min.
Some full-arch procedures offered by other companies can require multiple surgeries. Patients may have to undergo extractions, then return for implant placement a few months later, and possibly even return months later to uncover the implants.
After this, healing caps are typically placed for a few weeks while the tissue forms around them. Finally, after months in plastic dentures, a temporary implant retained bridge is usually placed until a final, permanent prosthesis can be fabricated. 
For qualifying patients, we have the ability to perform extractions, implant placement, and the immediate loading of a new set of teeth within one day. Our unique process prevents our patients from needing to wear temporary dentures for 6-8 months… or longer! 
For example: a general dentist might perform your extractions before referring you to an oral surgeon to have implants placed; after which you'll be referred to another dentist for the prosthetic work. Gone are the days of traveling to multiple clinics at different intervals for weeks or months on end – the Done In One procedure is fully completed by one highly-trained specialist and his staff, all under one roof.
Whether you are edentulous or you have teeth that have broken off at the gum line and need to be surgically removed, there are no added costs. While other companies may charge extra for each implant, we place as many as is best for each patient's anatomy at no extra charge. Completely replacing your teeth is already a major expenditure, we see no point in our patients incurring extra fees for any minor procedures required to restore their smiles, such as removing existing implants, bone grafting, etc. 
Afterward, you can choose between visiting us again for your annual cleaning and maintenance (recommended – the first one is on us!) or scheduling your recare appointments with a local provider.
We offer affordable travel packages and coordinate all airfare for two, 4-star hotel accommodations, and transportation for you – all you have to do is show up excited! This travel package includes your return trip after your healing phase. Of course, you are free to handle travel on your own if you choose.