---
---
True Permanent Implant Teeth In 48 Hours
Permanent Teeth - Not Temporaries!
---
The Done In One™
Hybrid Denture
The Done In One™ is a beautiful life like nanoceramic bridge bonded to a custom milled Trilor® bar inserted 1 day after surgery. It can replace just one set of teeth (upper or lower) or both in just 48 hours! One of the most advanced hybrids in the world!
How a Done In One™
Hybrid Works
A hybrid denture is a full set of teeth which are attached to dental implants. The hybrid attaches to the implants with small screws. A hybrid is only removed during cleaning appointments but otherwise will stay within the mouth permanently.
Done In One™
Dental Implants
Dental implants are small titanium screws designed to fit inside your jawbone, replacing the root portion of a missing tooth.
Done In One™
No Temporary Teeth
You don't receive temporary teeth like older procedures, then have to waste your time coming back months later with many visits to finally receive your permanent teeth.
The Done In One® Experience
Done In One® offers two different FDA certified permanent restorations, and each can be completed and delivered in a week or less!
Why is the Done In One® Experience so different?
With our revolutionary patent pending technology, we can offer our patients two different high-quality materials approved as permanent restorations by the FDA. Not only that, but our process can be completed in a fraction of the time as is typically required.
One size does not fit all. Done In One® allows you to choose the restoration and timeline that is best for you while saving you thousands.
---
Done In One® ULTRA BRIDGES Done In One® uses the only two ceramics approved for hybrids by the FDA.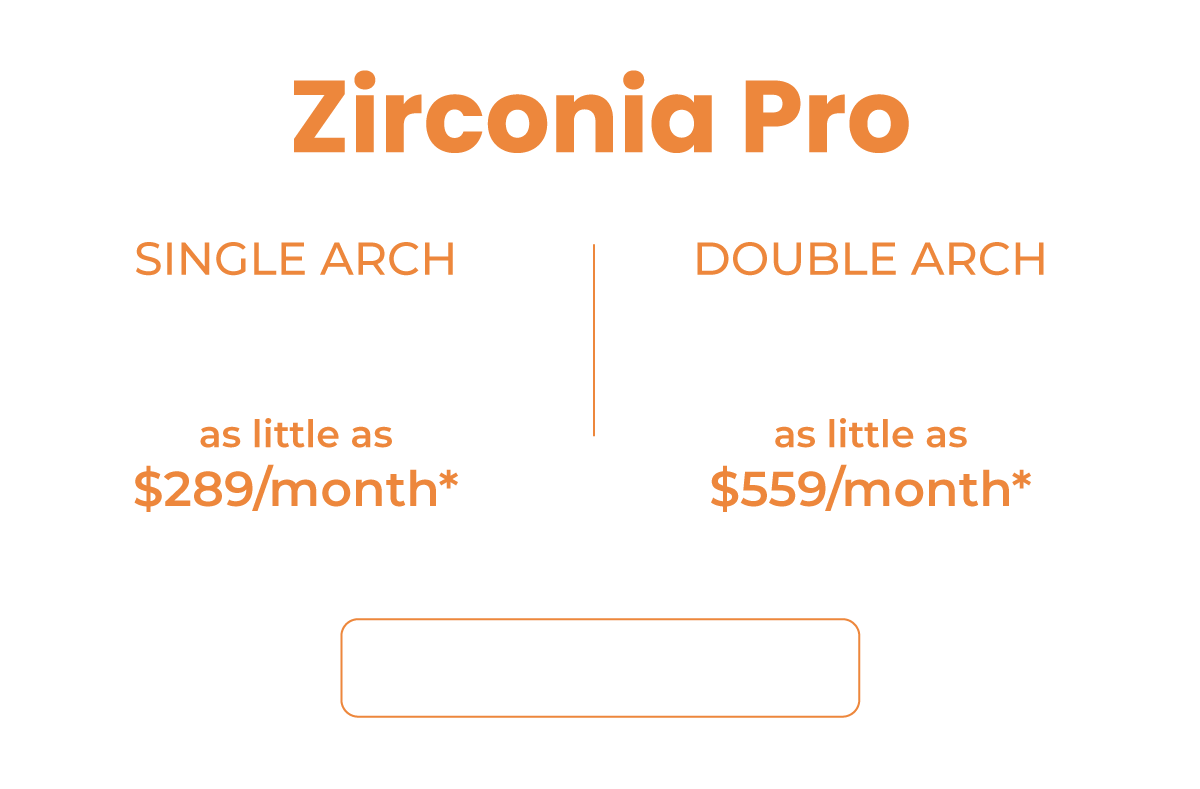 Zirconia Pro – Available in 3 visits over 7 days!
One of the only centers in the U.S. with the skill and technology to fabricate all zirconia restoration in one week!
Zirconia is a metal oxide that when placed in a furnace at extreme temperatures, it turns into a ceramic giving it extreme compressive strength.
The Zirconia restoration is classified as a metal which results in the restoration being almost impossible to break.
Life span – could last almost an unlimited timeframe.
5 Year Unconditional Warranty
Done In One®
Nano Ceramic Classic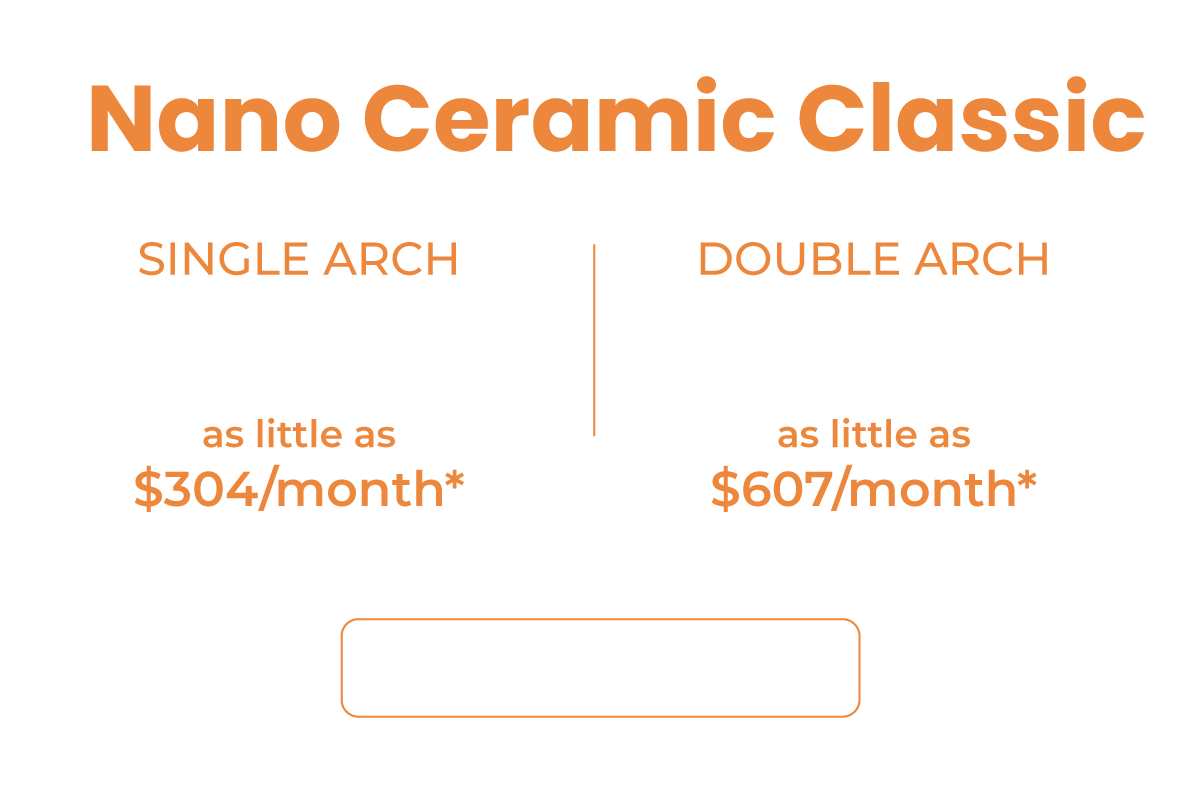 Nano Ceramic Classic – Available in two visits over 48 hours.
Consists of nanoceramic bonded to trilor. The combination results in durable, beautiful restorations.
490 megapascals compressive strength.
Flexes almost like natural teeth, bends and gives under stress.
Six times stronger than acrylic (denture tooth) hybrids.
Provides natural feeling of chewing.
5 Year Unconditional Warranty
**Prices shown are for custom-designed provisionals for three months before receiving final teeth.
The expedited Done In One® procedure is available for an additional $2,500 per arch.
Done In One®
Zirconia Pro
In Just Three Visits
Over 7 Days!
One of the few practices in the U.S. with the skill and technology to deliver permanent zirconia bridges from date of surgery to total completion in one week!
Done In One® Pro
Zirconia Difference
Done In One® Zirconia Pro Bridges:
In just 3 visits over seven days many patients receive zirconia restorations:
During your first visit you will have removal of any teeth and implants placed.
The next day on your second visit a 3D printed mock up of your teeth will be inserted for approval. We will perfect your bite or occlusion during this visit. We will then digitally scan the perfected bite to our design team that will make any changes.
On your third visit we will insert the permanent restoration and you are done!
Incredible Fee - See our specials for complete upper and lower restorations. This is what digital technology offers over 20th century analog technology.
Nanoceramic Done In One™ and Trilor® are easily bonded together to create a feel that closely resembles natural tooth enamel. This leads to greater comfort and less applied stress on implants.
Shock Absorbent, Soft Bite Feels Like Real Teeth
The Done In One™ restoration combines the strongest, most functional and aesthetic nanoceramic available – with Trilor®, a super strong resin that provides exceptional rigidity while still having a slight flex to absorb stress. This combination results in incredibly durable, beautiful restorations that look and feel like natural dentition, but are actually stronger implant supported dentures.
When Done In One™ is compared to IPS e.maxCAD our restoration has around 100 Mpa more compressive strength. E.max is one of the leading ceramics used in full mouth reconstruction with crowns because of their strength and durability.
Find out if Done In One® is the right solution for you
Done In One™ hybrids are roughly the same weight and the same hardness as natural teeth, leading to greater functionality and patient comfort compared to other materials.
At 490 MPa, Done In One™ compressive strength is greater than that of any other nanoceramic; making it the strongest nanoceramic dental material in use for cosmetic, minimally invasive and implant dentistry.
Bends and Gives
Under Stress
At 10 GPa, Done In One™ is the most flexible ceramic available on the market and the only ceramic that actually flexes in the mouth, so it won't chip, crack or fracture under stress.
Why Our Patients Love Done In One™ Advanced Engineering
Closest Alternative To natural Dentition
The Done In One™ hybrid bridge is one of the most advanced and best options for full arch implant supported bridges. When chewing with natural teeth, the periodontal ligament that is around the teeth provides a shock absorbent feel.
Done In One™ restorations have a similar shock absorbent quality that best replicates natural teeth with sound and feel. Older style, more stiff and rigid restorations tend to feel more like chewing with rocks. With Done In One™, the material takes the abuse and doesn't pass the impact to the bone.
Why Our Patients Love The Done In One™ Restoration
Gentle Bite. Gorgeous Aesthetics.
Done In One™ full arches are 60% lighter than Zirconia arches and 6 times stronger than traditional titanium acrylic hybrids. Done In One™ is also absolutely gorgeous with incredible optical qualities. Beautiful, strong and functional, Done In One™ Restoration is rapidly becoming the most popular restoration for full arch dentistry.
Done In One™ - The Perfect Match of Materials
Almost everyone has heard the story of Goldilocks and the Three Bears. It's about a girl who knew what she wanted and exactly how she wanted it. She wouldn't settle for too soft or too hard. So how does this apply to the Done In One™ nanoceramic bond to Trilor®?
Historically, most full arch hybrid restorations were made of acrylic denture materials supported by a titanium bar, commonly called an All-on-4™ when done with four implants. But acrylic is extremely soft, and within 5-7 years of placement, the percentage of repairs and failure rates is very high. For several years, dental labs have been offering highly aesthetic full arch Zirconia restorations as an everlasting alternative. Some dentists and patients complain that Zirconia feels too hard and makes a "clacky" sound with every bite. Acrylic is too soft and Zirconia is too hard, but hybrid nano-ceramic is considered a Goldilocks solution − "just right". This innovative technology is used to make monolithic full arch restorations that are not only beautiful, but feel great in the mouth, too. It is the closest material we have to the look and feel of natural teeth. It provides the most pleasant bite experience, and because it's nonporous and super-stain resistant, teeth stay clean and stain-free!
Features inherent, opalescent chameleon-like aesthetic qualities. Done In One™ looks and feels like naturally beautiful teeth.
More flexible and less abrasive. It's a "game-changer" for those who grind their teeth.
Offers long-term stability, elasticity, rigidity, and resistance to fracture and chipping. For everyday chewing, you don't have to worry about it breaking or chipping.
Provides the natural feeling of chewing. With its lightweight design, you are able to enjoy all the foods you like without a bulky piece in your mouth, unlike Zirconia.
No sound of clicking dentures as you talk, bite or chew. With Zirconia, with every bite, it sounds like two coffee cups clanking which can be loud and embarrassing.
Biocompatible, with zero toxicity, no sensitivity, no irritants and no metal. A better solution for your overall health.
Resistant to plaque and does not stain. Unlike Acrylic that absorbs odor and statins, Done In One™ will give you a confident smile 24/7.
Easy to polish and clean. Can be conveniently performed with a soft abrasive agent and subsequent polishing is carried out with standard tools. It's also, easily cleaned by the patient using a soft to medium toothbrush without scuffing or damaging the surface in any way.
Help to Prevent TMD (Temporomandibular disorders). While traditional full arch bridges using titanium bars or Zirconia keep facial muscles and ligaments in constant tension, Ultra-materials flex and yield while the jaw bone flexes.
Supports Osseointegration. Making sure that the entire piece, with the implants, integrates well with the jaw bone is crucial.
Kind to the gingiva. Soft tissue management is considerably facilitated by the high level of tissue acceptance. This means it will be friendly to your mouth and not cause irritation like previous solutions might have.
Less stress on abutment screws that cause screw loosening in traditional dental implant restorations as a result of a heavy bite or oblique bite forces.
Personalized for each patient, the Done In One™ hybrid bridge is a custom milled nanoceramic bridge bonded to a custom milled Trilor framework. This revolutionary material combined with our cutting edge technology allows us to deliver your final permanent teeth in 48 hours following surgery.
Most teeth in one day procedures are not custom designed and only offer a temporary set of teeth after surgery. If you've been considering teeth implant supported bridge, it's important to know the truth about teeth in a day, hybrid or all on four techniques currently available.
Watch real testimonials on how the Done In One™ procedure has helped hundreds of patients solve their dental problems and achieve the smile of their dreams. Our revolutionary teeth restoration procedure helped them restore confidence and brought a new meaning to their lives.